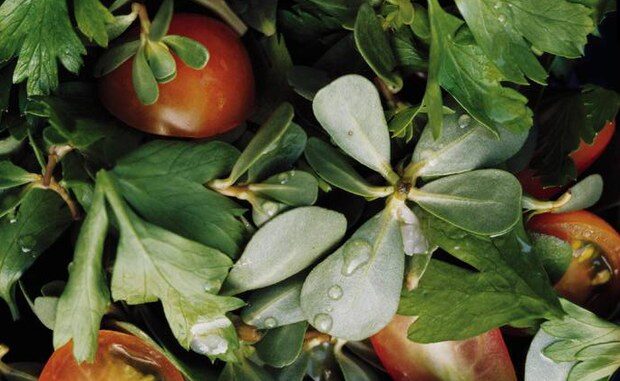 Hello again, Purslane. I suppose that you are wondering why I am acknowledging you after all these years of neglect, and I can also imagine your trepidation concerning my renewed interest. Now that I'm able to realize the pain and trauma I have caused you in the past, trepidation is probably too weak of a word; I'm sure that fear and dread are closer to how you are feeling, and those feelings are justified, but you don't need me to tell you that. Even though we've crossed paths many times over the years, I'm not sure which is more unforgivable, my early barbaric and thoughtless treatment of you or my eventual total disregard for your existence. Ultimately, it matters not; the deed is done. All I can do now is offer my sincerest and most heartfelt apologies for believing the lies and not thinking for myself to see you for the beautiful being that you are and all the good and healthful things that you have to offer. The sad fact of the matter Purslane is that despite our frequent "hands-on" encounters decades ago, I never knew or even cared to know your name. It is with thanks to Christie Aphrodite and wise people like her that I've only recently learned of your pleasant and nutritious nature, and this knowledge is what has compelled me to compose this letter to you.
I admittedly haven't given you even a passing thought for many years. Still, a recent viewing of your image on a website devoted to health and nutrition immediately transported my thoughts to another place and time, specifically my childhood home in the 1970s. There I am sweating and muttering in the scorching summer sun engaged in some vegetative bout of tug-of-war, and I must confess Purslane that you were a worthy adversary, winning as many battles as you lost. Imagining the scene now from your perspective, it must have been perplexing to you why this pimple-faced jerk of a human would be pulling and twisting and digging at you in such an obsessive manner. What had you done to deserve such treatment? Why couldn't he appreciate your natural beauty? Was he unaware of your nutritious properties and how they could benefit his health? I could try to excuse my behavior by claiming that I was only doing what my father had instructed me to do, but being a mindless order-follower does not absolve one of guilt and responsibility.
I must further confess that your resiliency and healthy root system garnered my begrudging respect. Still, it was those very same qualities that led me to pursue a chemical-based method of attack for which I am eternally ashamed. My father provided the weapon of mass destruction (Herbicide), and I willingly and thoughtlessly put them to use. Of course, I had no reason to fear repercussions from this cowardly approach since no "people of importance" have ever convened in Geneva to protect plant life from chemical annihilation. If it's any consolation, Purslane, humans are fair game too as the spraying of Agent Orange over the battlefields of Vietnam in the 1960s to the extensive use of Glyphosate over the agricultural fields of America have DEMONstrated time and again. But that's an entirely different open letter that every human needs to compose for themselves.
I will never be able to explain to you adequately, or myself, for that matter, why I failed to see you or smell you or even taste you (gasp!) when I was so close to you all those years ago. It sickens me today to remember how I would carelessly toss you into a wheelbarrow and heartlessly dump you over a hillside, and I have shed a tear or two while conjuring these memories. I just wanted to assure you, Purslane, that I can now SEE you for what you truly are, and I promise to show you the respect and appreciation that you so richly deserve for as long as my feet tread upon this bountiful land that we share.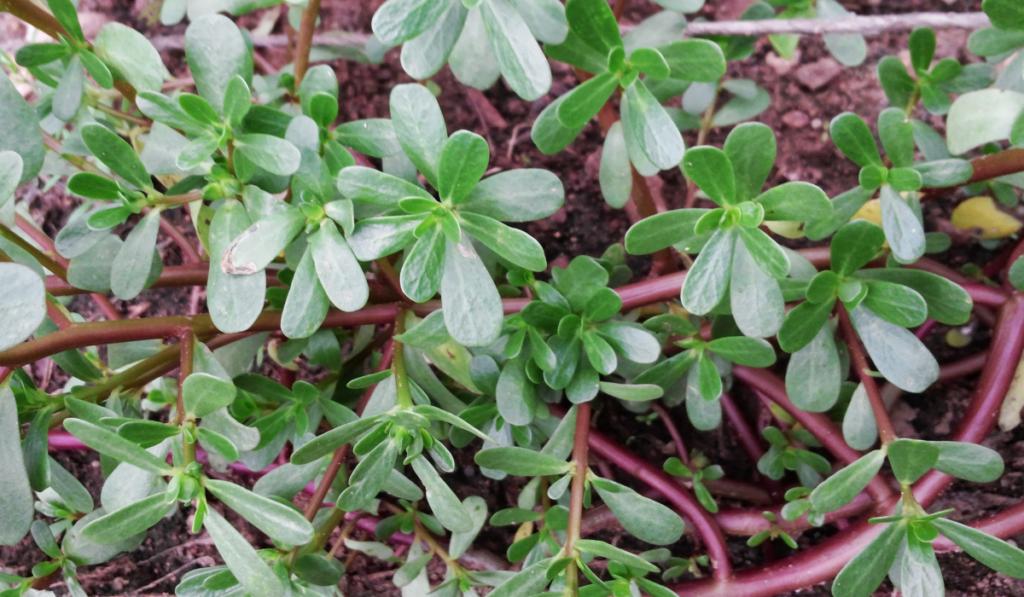 P.S. I hope you don't mind, but I need to list some of the reasons why my awareness and appreciation of you has grown. I know this is common knowledge for you, but I include the information in case another ignorant human should stumble upon this letter.
Purslane is a wild leafy green that is highly nutritious and can be eaten raw or cooked. At 93% water content, purslane is a succulent plant with red stems and tiny green leaves. Some have compared its sour, slightly salty taste to watercress or spinach; it can be eaten in the same way as these better-known greens by adding it to salads and sandwiches.

Like many other wild plants, purslane is adaptable and you might see it growing up through cracks in the sidewalk or taking over a corner of the garden. Purslane can thrive even in harsh environments where there isn't much water, as well as in soil that's overly salty, or lacking in minerals.

This hardy little "weed" has been used medicinally by practitioners of alternative and traditional healing methods, and is loaded with beneficial nutrients and compounds.

https://bodynutrition.org/purslane/
The vitamin C in purslane acts as an antioxidant, and is vital for maintenance of bones, muscle and skin.
Alpha-tocopherol, a form of vitamin E, is abundant in purslane, and is known to protect cell membranes from potential damage.
Beta-carotene is converted by the body into vitamin A, which is important for eye health.
The antioxidant called glutathione also plays a role in preventing cell damage.
Melatonin, best known for its importance in promoting good sleep, is necessary for many other intricate bodily processes.
Thank You Purslane.
Please follow and like us: