This sure has been a wild ride!!! Many of you started following me back in San Diego while I was pretty "healthy" by societies standards as a single single mother. Then you saw me get put in a wheelchair and chased out of my hometown…only to search for a place to call home to be given a chance at living off the land and healing………then to have my children taken away, to me leaving on my second "Soul Journey" that ended up in my inability to talk, walk, erased memories, lost family, pets, health, business, show, sites, friends and more…………..to heal myself again, while homeless living in 2 vans, #magicalhoopty 1 and 2, building my own off grid "tent dome", #pimpmytent, a moldy shed, the fake bnb and much much more…like when I finally got a decent paying job, with raises, a studio apartment, and how I started saving more from there, along with my photos to finally build my dream of going back home to the place in my mind, doing all I love to do and truly believe I was put on this earth to do.
Thanks to timehop, I am constantly reminded of where I once was…and equally amazed at how much ones life can change when you set your priorities to being your best most authentic self, true to your divine purpose only. This doesn't take magic or money….only resolute of purpose and belief in yourself already being equipped with all you need. Adversity makes you stronger and is essential to realize if you are ready to move past the pain and realize your dreams. 🙂
Now that I am home and getting settled I would like to share with you some of the progress I've made since moving in here. Some people think it's magic that I was able to accomplish all this on my own. I believe everything is magic and know that anyone can do all of these same things…and more, if they truly desire it.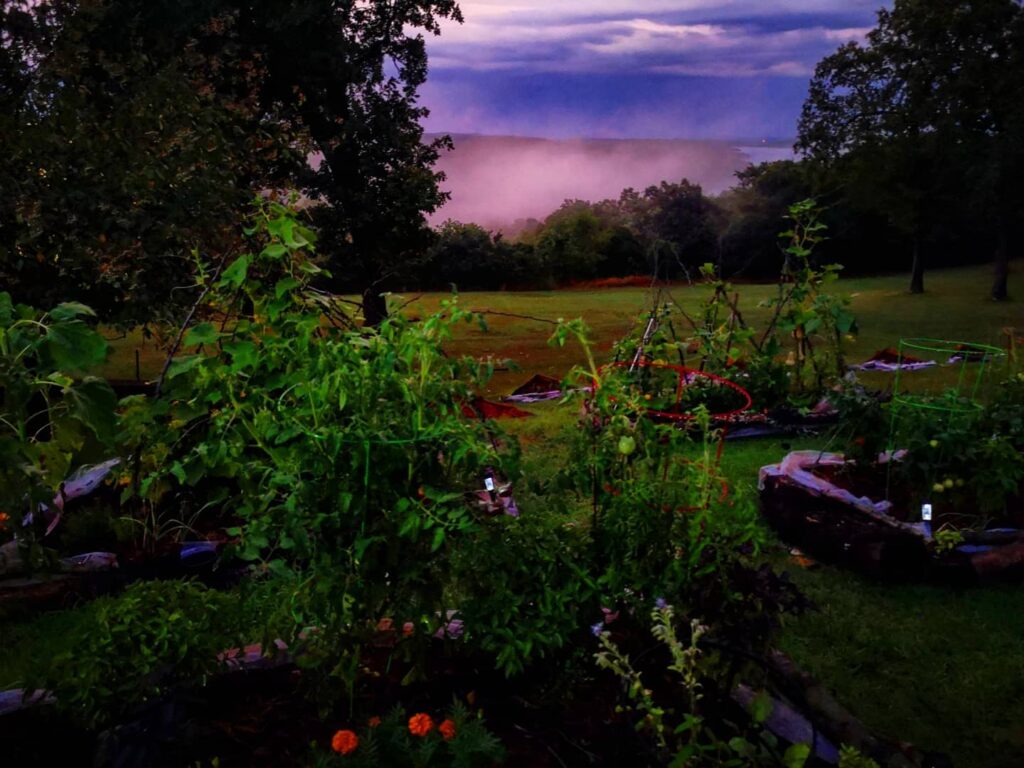 Introducing to you my Church of Nature, my food forest and garden project, which I intend to be a place of healing and community with meditative wildflower gardens, orchards, and of course a free library. Project Love Your Neighbor was not just some destroyed forgotten dream. It is a way of life that I have been able to recreate in tangible, living, physical form here where I have landed in the Ozarks. It is the headquarters of My True Essence and an integral part of feeding the local community. I have planted over 100 species thus far, with much more to go! 🙂
It's definitely been a crazy transition finding my home sweet home and racing Nature to get as much planted as I could in time. I built over 2 dozen raised beds, some hay bale gardens and filled several more fabric beds that I thought would help me get more up in time. Of course those took 2 months to receive…lol It is doubtful I will ever purchase anything from fakebook or instagram, but I'm glad I Received them. 🙂
Moving in and getting settled hasn't been all that easy, but there is nothing I would rather be doing, especially after not having a home for 6.5 years!!! Moving during a "pandemic" made it difficult or impossible to acquire many essential household items like freezers, refrigerators, generators, etc…so it's taken a little extra work to do everything and make things work without.
I'm really enjoying looking back from the day I moved in here and seeing all the changes. This was what I was building, morning to night each day while I wasn't here on this site. An over 5 month ban on facebook has helped too! 😀 I also had to put My True Essence aside for a moment, but am back all stocked up and am here to stay! 🙂 Working on getting the computer back to where I can do radio again so look for that here as well!
I am now harvesting and preserving as much from the garden as I can each day. Now that I am back on the internet here I'll be sharing some of my garden tips along the way again. Also please feel free to share yours and send any questions you might have to answer here or in my Coffee with Christie or LIVE VIDEO series! 🙂
I'm going to share the latest video from the garden first, while prior garden videos will go in descending order to the start of my work here. I hope this inspires you to start growing food and maybe gives you some ideas on what you can do to get started! I did all of this by myself! So this means if I can do it, so can you! So what are you waiting for? 🙂
Here's the latest video sharing what's going on my my garden….transitioning from summer to fall garden:
And the following earlier in August:
July:
June:
May:
I have made a playlist on youtube to show all my garden videos in one place. It also includes the videos I posted on youtube about the whole process from buying the home on up to the day I moved in. If you are interested, that can be found here. 🙂 Home Buying, Moving and Garden Progress
Also this is an older garden playlist with shows from Soul Journeys Radio with Heather Rhoades of Gardening Know How.
May you always follow your heart and realize all your dreams come true. Why not, after all?!?!? Don't you deserve it? I think you do and I believe in you. Do you believe in you?
Thank you so much for joining me on this journey. It has truly been an Honor!
Blessings and Love,
Christie Aphrodite
Please follow and like us: