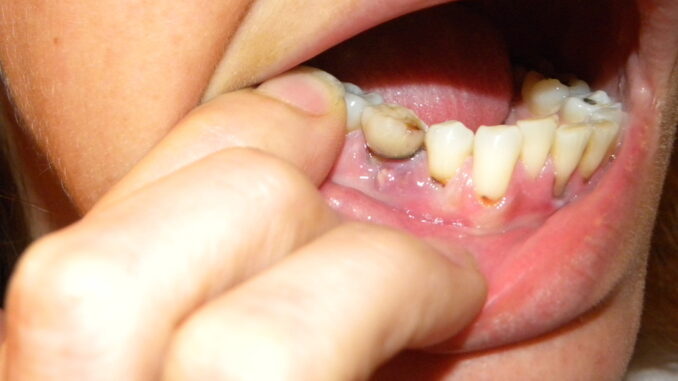 10/8/2013
(This is a repost of the original blog on My True Essence that was posted in 2013 before I was erased and others tried to capitalize on my REAL results and photos. 🙂 )

Click here for first video: Can you ReGrow your teeth and gums with Oil Pulling? 🙂
As I explain in the video sharing with you the current changes in my teeth, I have been oil pulling on and off since July. I'll admit with summer harvesting and house guests that I sloughed off for a while which was actually a good thing because it showed me if my healing really was about the oil pulling!
Since I started this adventure the hole has almost sealed up all the way! I have gotten rid of all my pain, all infections and teeth that previously were loose are now firm and tight. it appears to has regrown my enamel and gums as well as filled in ridges and other small cracks that have plagues me ever since I could remember! 🙂
The most astonishing thing is that when the gap closed up the first time in the previous blog as the root from below started to grow it split it right open! So it has actually healed twice as you can see in the video the gap closed up again and is well on it's way to a complete healing!
I've also noticed that the other holes in my teeth I've had for over 20 years are also growing smaller!
My belief is you really CAN re grow your teeth and gums based on my experience.
So far I believe that coconut oil has worked the best for me.
The essential oils I am using regularly now are:
eucalyptus
tea tree
peppermint
oregano
I tried a few others that I talked about in the previous updates, but these seem to work the best for me.
I also started swishing with DE, Diatomaceous Earth and FOOD GRADE H202 occasionally and sometimes sleep with baking soda on that tooth. 🙂
I have added some ground up egg shells in my occasional smoothies and am looking to start on some cod liver oil. 🙂
I also make a toothpaste you can find here.
And I have been taking modifilan and putting some of the seaweed on the gums themselves since fucoidan is known to regrow tendons, so I figured why not give it a try!
Anyway, I'll let you get to the video! 🙂

I am not medical or dental doctor and none of this is intended as medical advice or to replace the care of your chosen health professional. I am simply sharing my experience in hopes of finding more self sufficient ways of dealing with our own health care. These are open experiments I have chosen to share with you. Nothing more.
Please be wise in deciding what is right for you and believe nothing you hear. The only truth is YOUR experience! <3
Thank you for sharing in my Journey!
Blessings and Love,
Christie Aphrodite
Please follow and like us: