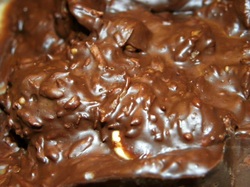 Midnight Menopausal Medicine in Five Minutes
Because you know it ladies…even if it's 2:30 AM we sometimes NEED our chocolate fix! 🙂 And it's more fun with your friends!!!
Only 4 ingredients!!! So you can make this in a QUICK HURRY for your erratic chocolate cravings…and STILL be healthy! (kind of)

For this basic version here is all you will need:
Organic cacao chips
organic unsulphered coconut
organic peanut butter with ONLY peanuts
RAW organic cashews

Yup, That's it!

Now melt the cacao chips in a sauce pan…stir in peanut butter, coconut and nuts of your choice….and voila!
IF you can control yourself from devouring it nice and warm and creamy, then you will spoon it on to wax paper and put in refrigerator and eat later.
I personally CAN'T wait….HAHAHAAH And you will see why!
To me, this is better than ANY fudge or unhealthy chocolate treat I have EVER made after 30 years of baking!
And easier! It literally is done in LESS than 5 minutes!!!

Also, if you want to take it a step up, feel free to add some flax seed or chia seeds. Dried fruit like cherries and berries are also awesome to add to this super delicious treat and you'll have an extra "shot" of protein and not feel guilty about the chocolate! 🙂 Not to mention since it is real food, you won't have to eat as much to satiate yourself!
Here's another version here:
Please follow and like us: