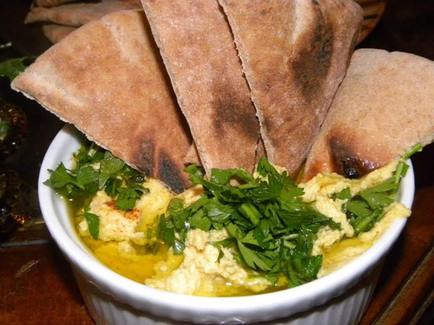 We know that we should be eating our medicine, but do we know how? Yummus Hummus is one of my favorite ways to eat my medicine. And this is how easy and quick it can be! 🙂
Who doesn't love a good hummus?  Hummus is one of my main staples in my diet. Some of the reasons are because it's just plain delicious, and then of course due to it's medicinal properties. The garlic and cayenne gives it anti-inflammatory properties as well as aids in digestive health. The nutrient dense beans are also rich in protein and fiber, and of course the lemons which give you some extra antioxidants and also aid in heart health.
I love all sorts of bean dishes and dip and sometimes make this with black beans, or add roasted red pepper and other exotic ingredients, however I really like the traditional version.
This is how I make mine:
Soak organic garbanzos over night.
Next day boil until soft.
Strain and set some water aside.
Pour beans in blender with whole bulb of garlic, juice of one or two lemons, olive oil and or sesame oil (black walnut is delicious too!), Organic Tahini, a little water that you just boiled the beans in, sea salt, turmeric, cayenne and cumin. 🙂
Top with fresh parsley, olive oil and paprika
More Cooking with Christie Videos here.
Please follow and like us: