For several years now, decades even, Christie Aphrodite has been trying to let us in on the "MK Ultra Joke," as she calls it. If you haven't been following along, the setup goes something like this, "We are ALL victims of trauma-based mind control and have been operating as unknowing MK Ultra test subjects for the entirety of our lives."
Because the PUNCH-line is now beginning to reveal itself and since this "joke" has had a long build-up, I thought a refresher might be in order; unveiling of the magic trick if you will. Of course, the fun of a joke comes from the brain suddenly switching from one mindset to another. If you need to explain the joke, the switch does not happen, and so it is not funny.

Not a problem in this case because this joke was never intended to be "ha-ha" funny anyway.
Dr. Fraud: Hello, Mary, what brings you to me today?
Mary Kay: Doctor, my eyes have seen the years. And the slow parade of fears without crying. Now I want to understand.
Dr. Fraud: Did my secretary inform you of my hourly rate?
Mary Kay: I have done all that I could to see the evil and the good without hiding. You must help me if you can.
Dr. Fraud: Of course, I can help you with that. Did you give your credit card information to my secretary?
Mary Kay: I have wandered through this world, and as each moment has unfurled, I've been waiting to awaken from these dreams. People go just where they will. I never noticed them until I got this feeling that it's later than it seems.
Dr. Fraud: Have you been practicing proper social distancing?
Mary Kay: Doctor, my eyes. Tell me what you see.
Dr. Fraud: I am not an optometrist. Perhaps you are confused.
Mary Kay: I hear their cries. Just say if it's too late for me!
Dr. Fraud: You seem, agitated. Perhaps you require medication for these emotional issues that plague you.
Mary Kay: Doctor, my eyes!
Dr. Fraud: Yes, your eyes. Please remain calm while I request assistance.
Mary Kay: They cannot see the sky!
Dr. Fraud: (This is Dr. Fraud. I require assistance. Patient refusing to self-quarantine). There, there…no need to panic. It's just a precaution for your own good.
Mary Kay: Is this the prize for having learned how not to cry?
As Mary began sobbing with head in hands, an orderly crept up from behind and injected her with a lethal cocktail, sending her into a catatonic state. Please join Mary Kay and me as we now time travel back to the year 1954. Why 1954, you ask? Because that was the first full year after the implementation of the MK Ultra program, you silly goose. Of course, "they" say the program ended in the 1970s, but believe Christie when she says, "It didn't end in the 70s. It extended to the masses."
(1/7/1954) – Demonstration of the Georgetown-IBM Experiment
Developed jointly by Georgetown University and IBM, this experiment involved a completely automatic translation of more than sixty Russian sentences into English. The operation was conceived and performed primarily to attract governmental and public interest and funding by showing the possibilities of machine translation.
Previously, during World War II, IBM became deeply involved in the war effort for the U.S., focusing on producing large quantities of data processing equipment for the military and experimenting with analog computers. IBM chairman and CEO Thomas J. Watson developed the "1% doctrine" for war profits, which mandated that IBM receive no more than 1% profit from the sales of military equipment to the U.S. government.
After World War II, Watson began work to further the extent of IBM's influence abroad, and in 1949, he created the IBM World Trade Corporation.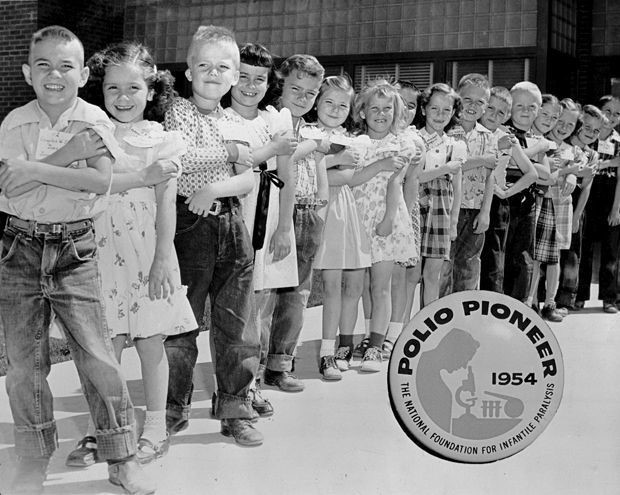 (2/23/1954) – First Mass Vaccination of Children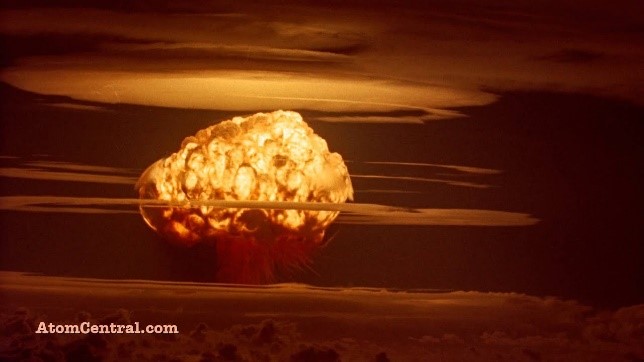 (3/1/1954) – Castle Bravo Hydrogen Bomb Detonated
At the time, it was the most powerful "artificial" explosion in history. Ultimately, 15 islands and atolls were contaminated, and by 1963 Marshall Islands natives began to suffer from thyroid tumors, and many birth defects were reported.
The 1957 novel On the Beach by Nevil Shute is about a nuclear war that released so much radioactive fallout that all the life in the Northern Hemisphere disappeared, while the Southern Hemisphere awaited a similar fate. Shute attended the Royal Military Academy and trained as a gunner, but because of his stammer was unable to take up a commission in the Royal Flying Corps. He served as a soldier in the Suffolk Regiment, and he participated in military funeral parties in Kent during the "1918 flu pandemic".
A 1959 film based on Shute's novel was produced and directed by Stanley Kramer.
Kramer was drafted into the army in 1943 during World War II, where he helped make training films (propaganda) with the Signal Corps in New York, along with other Hollywood filmmakers, including Frank Capra and Anatole Litvak. He left the army with the rank of first lieutenant.
(4/1/1954) – "Rock Around the Clock" Begins Rock and Roll Craze
It was not the first rock and roll record, nor was it the first successful record of the genre. Still, Haley's recording nevertheless became an anthem for rebellious 1950s youth and is widely considered to be the song that, more than any other, brought rock and roll into mainstream culture around the world. It was not until 1955, when "Rock Around the Clock" was used under the opening credits of the film "Blackboard Jungle" that the song indeed took off.
New York Times Film Review – March 21, 1955
EVAN HUNTER'S "Blackboard Jungle," which tells a vicious and terrifying tale of rampant hoodlumism and criminality among the students in a large city vocational training school, was sensational and controversial when it appeared as a novel last fall. It is sure to be equally sensational and controversial, now that it is made into a film.
Evan Hunter is one of many adopted names of Salvatore Albert Lombino. Lombino served in the Navy in WWII and wrote several short stories while serving aboard a "destroyer" in the Pacific.
It gives a blood-curdling, nightmarish picture of monstrous disorder in a public school. And it leaves one wondering wildly whether such out-of-hand horrors can be. From scenes that show the painful inability of the teacher to control his class, to incidents of straight assault and battery, culminating with an attack upon the teacher by a kid with a knife, the emphasis is wholly upon impudence, rebellion, and violence. Richard Brooks, who wrote the screenplay and directed, departs little from Mr. Hunter's book, and he puts his principal actors through paces that would seem to leave them permanently marred and scarred.
Richard Brooks was born in Philadelphia as Reuben Sax to Hyman and Esther Sax, Russian Jewish immigrants. As a member of the Marine Corps film unit at Quantico, Virginia, he learned more about the basics of filmmaking, including writing and editing documentaries (propaganda). Brooks would later win the Academy Award for best-adapted screenplay for the films In Cold Blood (1967) and Looking for Mr. Goodbar (1977).
In Cold Blood: Noted by film historians as an early example of Hollywood new realism, the film chronicles the story of two men who murder a family of four in Holcomb, Kansas. Scholar Joel Black considered the film and its representation of real-life violent incidents "a form of psychological or social documentary."
Looking for Mr. Goodbar: This is a film based on a best-selling novel which was inspired by the 1973 murder of New York City schoolteacher Roseann Quinn. The film concludes with the victim being attacked, raped, and repeatedly stabbed with a knife in an orgy of blood and drug-induced surrealism.
(4/1/1954) – Construction of the Air Force Academy Begins
The Vietnam War was the first war in which Academy graduates fought and died.
Due to the need for more pilots, academy enrollment grew significantly during this time. The size of the graduating classes went from 217 cadets in 1961 to 745 cadets in 1970.
(4/7/1954) – Dwight D. Eisenhower "Domino Theory" Speech

The domino theory was used by successive United States administrations during the Cold War to justify the need for American intervention around the world.
(4/22/1954) – Joseph McCarthy Begins Hearings Investigating U.S. Army
These "televised" hearings gave the American public their first view of McCarthy in action. To reinvigorate his declining popularity, McCarthy made a dramatic accusation that was a crucial mistake: he charged that the United States Army was "soft" on communism. The hearings were a fiasco for McCarthy climaxing when McCarthy slandered an associate of the Army's chief counsel, Joseph Welch. Welch declared, "Until this moment, Senator, I think I never really gauged your cruelty or your recklessness…Have you no sense of decency, sir, at long last?" A stunned McCarthy listened as the packed audience exploded into cheers and applause. In December 1954, the Senate voted to censure McCarthy for his conduct. Three years later, he "died" of complications from cirrhosis of the liver.
(5/29/1954) – Creation and First Meeting of the Bilderberg Group
Participants include political leaders, experts from industry, finance, academia, and the media. The undisclosed nature of the meetings would give rise to several conspiracy theories. Some on the left accuse the Bilderberg Group of conspiring to impose capitalist domination.
In contrast, some on the right have accused the group of conspiring to impose a world government and planned economy.
(6/14/1954) – The Words "Under God" Added to the Pledge of Allegiance
Allegiance is defined as The tie or obligation of a subject or citizen to his sovereign or government, the duty of fidelity to a king, government, or state.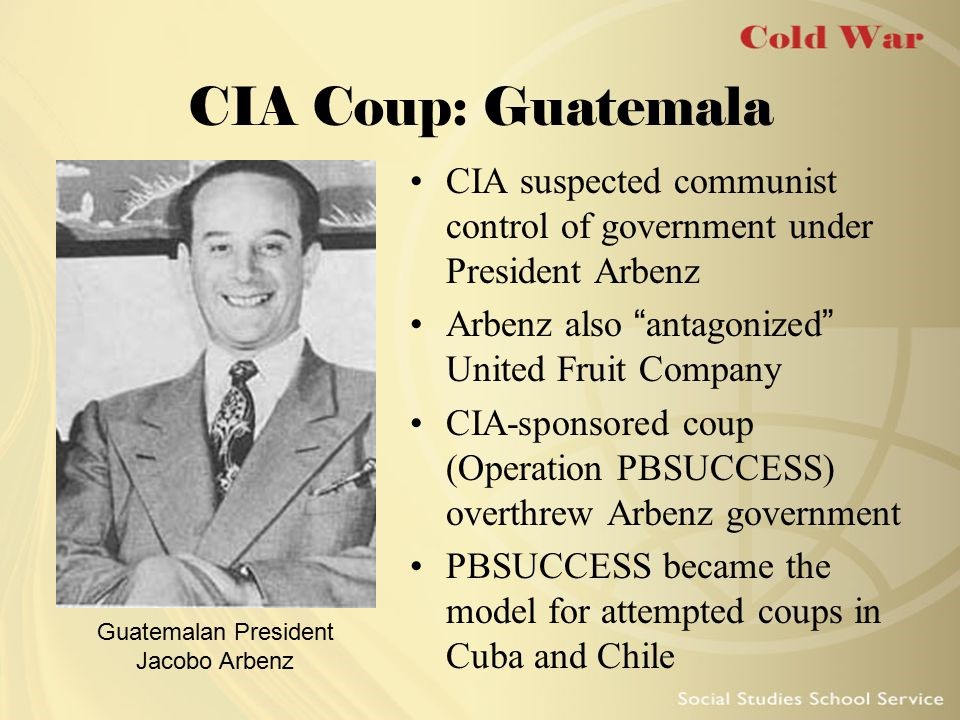 (6/17/1954) – CIA Engineered Military Coup in Guatemala
The CIA armed, funded and trained a force of 480 men. The coup was preceded by U.S. efforts to criticize and isolate Guatemala internationally. The CIA force invaded Guatemala, backed by a massive campaign of psychological warfare. This campaign included a radio station that broadcast anti-government propaganda and a version of military events favorable to the rebellion, claiming to be genuine news, as well as air bombings of Guatemala City and a naval blockade. The invasion force fared poorly militarily, and most of its offenses were defeated.
However, psychological warfare and the fear of a U.S. invasion intimidated the Guatemalan army, which eventually refused to fight.
Described as the definitive deathblow to democracy in Guatemala, the coup was widely criticized internationally and strengthened the long-lasting anti-U.S. sentiment in Latin America. Castillo Armas quickly assumed dictatorial powers, banning opposition parties, imprisoning and torturing political opponents, and reversing the social reforms of the revolution. Nearly four decades of civil war followed as leftist guerillas fought the series of U.S.-backed authoritarian regimes whose brutalities include genocide of the Maya peoples.
"I pledge allegiance…"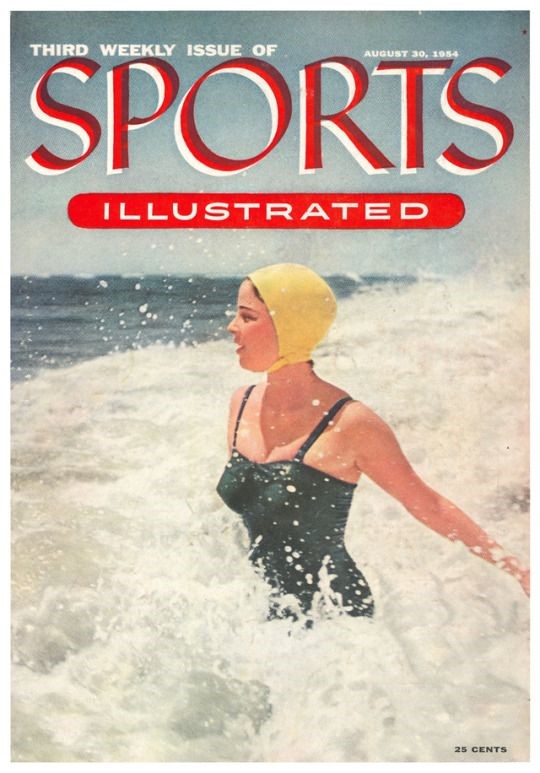 (8/16/1954) – First Issue of Sport Illustrated Magazine
Television's increasing popularity during the 1950s had a dramatic impact on sports. In 1946, there were fewer than 17,000 television sets in the U.S. Three years later; consumers were buying sets at a rate of 250,000 per month. The buying frenzy continued throughout the 1950s, and by 1960, three-quarters of all American families owned at least one TV. Executives at Time-Life dubbed the proposed magazine "Muscle," "Jockstrap," and "Sweat Socks." Little did they realize that spectator sports in the United States was about to explode, and that popularity came to be primarily driven by three things: economic prosperity, television, and Sports Illustrated (the brainchild of Skull and Bones member Henry Luce). File this one under "Bread and Circuses."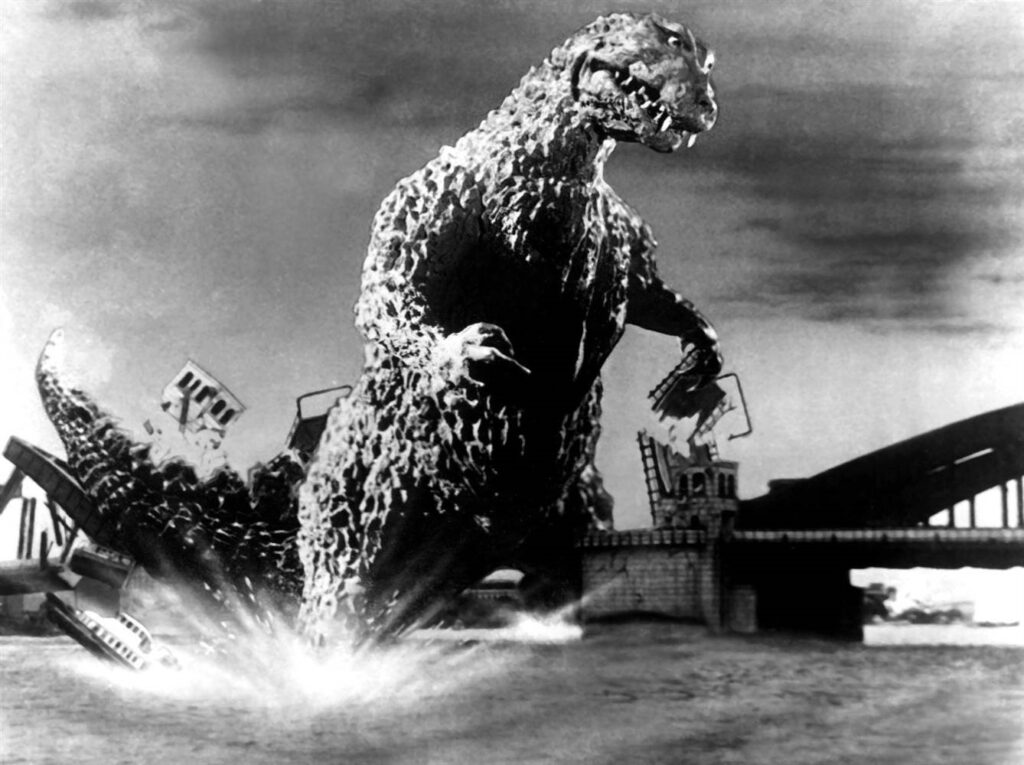 (11/3/1954) – First Godzilla Movie is Released
Fears of nuclear war and radioactive fallout are subliminally reinforced when, in the film, Japan's authorities deal with the sudden appearance of a giant monster, whose attacks trigger fears of a nuclear holocaust. The film's release came less than a decade after the atomic bombings of Hiroshima and Nagasaki.
(12/4/1954) – First Burger King Opens
The company was founded in 1953 as Insta-Burger King. After Insta-Burger King ran into financial difficulties in 1954, its two Miami-based franchisees David Edgerton (U.S. Army) and James McLamore (U.S. Navy) purchased the company and renamed it "Burger King". Edgerton would go on to serve on the board of Avantcare, a company that made "nutritional products" to help treat alcohol addiction. https://www.youtube.com/channel/UCdJSAirkqsUluxOrvVNhslA
Edgerton and McLamore ran Burger King as an independent entity before selling it to the Pillsbury company in 1967. In 1978, Pillsbury hired McDonald's executive Donald N. Smith to help revamp the company. Smith restructured corporate business practices at all levels of the company before leaving Burger King for Pepsico in 1980. (Coke vs. Pepsi, Burger King vs. McDonalds). Donald N. Smith served in the United States Marine Corps Reserve from 1957-1965.
Donald N. Smith's successor was Norman E. Brinker who initiated a competitive period between burger chains known as the "Burger Wars". Brinker was a member of the U.S. Navy, and his third wife was Nancy Goodman Brinker, founder of the Susan G. Komen foundation, named after her only sister Susan, who died from breast cancer in 1980 at the age of 36.
In other food news, it was around this same period that TV dinners were introduced. The term TV dinner was first used as part of a brand of packaged meals developed in 1953 by the company C.A. Swanson & Sons. During WWII, the Swanson company was a major supplier of poultry and egg products to the U.S. military. https://www.youtube.com/watch?v=C-6mI708yWc
We've been controlled, conditioned, and programmed our entire lives by the 3-M's
Military Industrial Complex
Medical Industrial Complex
Media Industrial Complex
Please follow and like us: