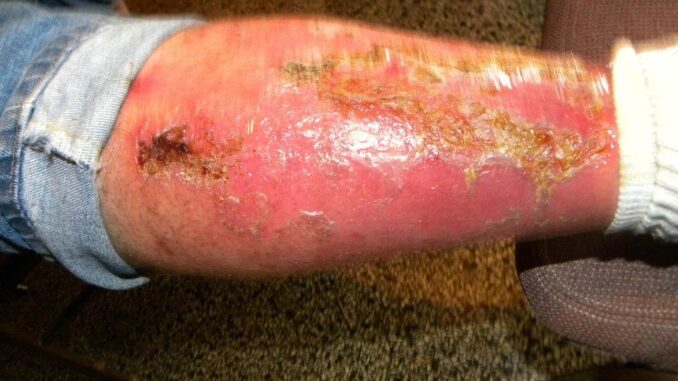 Modern society would have you believe that amputation is the only cure for gangrene. However those of us who know Nature, know different.
This video was from back in Branson after healing a veterans legs after he was told the VA was going to chop them off. The truth is there are so many other better choices that drugs and butchery…Give Mother Nature a Chance. This is Ricky's story.
As of 2019 his legs are still in tact and the issue did not come back for those of you who doubt the magical healing power of essential oils.
After all these years of being erased online and having to move a couple dozen times, these are all the photos I can find right now. They seem to include most of what I took, minus the first batch or two.
I AM NOT A DOCTOR AND THIS IS NOT INTENDED TO BE MEDICAL ADVICE! I am simply sharing with you the fact that healing is possible when you Give Mother Nature a Chance. 🙂
Ricky's Story – Healing Gangrene with Essential Oils

Ricky's Story – Healing Gangrene with Essential Oils

Ricky's Story – Healing Gangrene with Essential Oils

Ricky's Story – Healing Gangrene with Essential Oils

Ricky's Story – Healing Gangrene with Essential Oils

Ricky's Story – Healing Gangrene with Essential Oils

Ricky's Story – Healing Gangrene with Essential Oils

Ricky's Story – Healing Gangrene with Essential Oils

Ricky's Story – Healing Gangrene with Essential Oils

Ricky's Story – Healing Gangrene with Essential Oils

Ricky's Story – Healing Gangrene with Essential Oils

Ricky's Story – Healing Gangrene with Essential Oils

Ricky's Story – Healing Gangrene with Essential Oils

Ricky's Story – Healing Gangrene with Essential Oils

Ricky's Story – Healing Gangrene with Essential Oils

Ricky's Story – Healing Gangrene with Essential Oils

Ricky's Story – Healing Gangrene with Essential Oils

Ricky's Story – Healing Gangrene with Essential Oils

Ricky's Story – Healing Gangrene with Essential Oils

Ricky's Story – Healing Gangrene with Essential Oils

Ricky's Story – Healing Gangrene with Essential Oils

Ricky's Story – Healing Gangrene with Essential Oils

Ricky's Story – Healing Gangrene with Essential Oils

Ricky's Story – Healing Gangrene with Essential Oils

Ricky's Story – Healing Gangrene with Essential Oils

Ricky's Story – Healing Gangrene with Essential Oils

Ricky's Story – Healing Gangrene with Essential Oils
Please follow and like us: