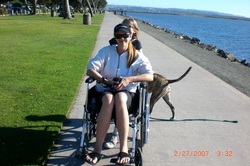 Let's get real here…my whole online life has been free! Since 2005!!! AND I have gone homeless and disabled myself in that time. Clearly on the other side of it, what I teach, WORKS! Most of you ignored me in my time of need after giving to you so freely…
And, now you say you want my advice…? Yeah…..uh….first you need to give me one good reason why I would spend more time on MY dime to help you AGAIN…when you CHOSE to not listen to all my FREE PROVEN advice that's already out there!!!!
I learn from my mistakes. This is NOT negotiable. You want my FREE help, prove you are worth it by utilizing it with my thousands of videos and shows and hundreds of articles and blogs BEFORE you die!!! Don't tell me I'm right after the fact, DO IT NOW!!! OR PAY FOR A SESSION!!! I DO NOT HAVE TIME TO GO BACKWARDS!!!! NO MORE!!!
Truth is, there is nothing I can tell you in my sessions that I haven't already given for free for over a decade…at my expense. This still is all at my expense. I live my truth. I walk my walk. Now it's time for you to do that same if you expect more of my time. Each time I stop to go over something I already have, that takes time away from me learning more that I can go freely share with those who DO RESPECT my work.
That's what it boils down to. Ignoring me for years, then demanding my time at YOUR convenience years later shows a lack of respect for my work. If this message offends you, perhaps it's time to step up and BE the change you speak of! Show you love yourself FIRST by going the extra mile and putting in the effort…because without that, I can no longer be available.
Blessings and Love to You! I have given you the keys…will you open the door???
More Coffee with Christie Videos here.
My Personal Trauma Healing Journey playlist here.
Please follow and like us: